Luxury condo living goes beyond the basics to offer beautiful amenities both inside and outside of your unit. Often, community amenities provide social experiences and beautiful surroundings that enhance many aspects of daily living.
You'll find communities that connect you to nature, mindfulness, and your neighbors. There are many things to look for in condo developments to make sure you are purchasing the best fit for you. From fitness centers to dog parks to pools, you're sure to find what you need.
Why Choose a Luxury Condo

Luxury condos offer significant benefits to traditional single-family homes. They can be less expensive options and are an excellent choice for first time home buyers.
Both the down payment and monthly mortgage payments can be significantly lower than if buying a house. They also can be an excellent option for those looking to purchase with a VA loan.
There is also significantly less upkeep with luxury condo living. Since you are only responsible for the interior of your home, your maintenance responsibilities are minimal.
Exterior maintenance is the job of the condo's homeowners association.
Typically, the HOA for luxury condominiums is in charge of:
Lawn Mowing
Exterior Painting
Hedge Trimming
Leaf Blowing
Gutter Cleaning
Roof Repairs
Lawn Mowing
Exterior Painting
Hedge Trimming
Leaf Blowing
Gutter Cleaning
Roof Repairs

This arrangement means that luxury condo living gives you a lot of perks with minimal responsibility.
Emerging Trends in Luxury Condo Living
Condos keep their residents and owners happy with these trends and offerings.
Technology at Your Fingertips
State-of-the-art, luxury condo communities offer cutting-edge technology for residents. Many units include smart technology solutions for home security, appliances, and wi-fi access. These amenities make luxury condos feel safe and convenient.
Green Options
Luxury condominiums are also at the front of green technology. Many now offer sustainable features with the environment in mind. Amenities such as eco-friendly lighting, heating, and cooling systems save money and help conserve resources.
Fitness Opportunities
Almost all who enjoy luxury condo living have access to a gym. Many communities replace the need to join a gym by offering owners top-of-the-line equipment.
Residents enjoy options such as Peloton equipment, Wi-fi-enabled bikes, and a variety of classes. Many luxury condos offer classes in spin, yoga, and weight training.
Spa Amenities
Luxury condo communities frequently offer their residents spa-like benefits. Some have infrared saunas int eh fitness area, while others have full on-site spas with massage and other services.
Communal Areas
In addition to your patio or balcony, luxury condos also provide beautiful common areas for residents to enjoy. Most have gathering places or clubhouses that include grills and picnic tables for outdoor entertaining. Have friends over and enjoy some great time together.
Living and Working from Luxury Condos

A growing population now has the opportunity to work from home. Luxury condos often offer common areas where you will find charging stations, reliable wi-fi, espresso bars, and standing desks. These areas give the opportunity to interact with others in a shared space and a nice change of scenery from your home office.
And if you work outside the home, luxury condo living is perfect. These homes are often built right in the downtown area of a city. Proximity to the business district limits your commuting time and lets you enjoy the culture, food, and entertainment that downtown locations offer.
Retirees Enjoy Condominium Living
Many retirees appreciate the convenience, social aspects, and affordability of luxury condo living. Some communities now offer golf simulators that both retirees and working adults can enjoy. Golfers can practice their swing regardless of the weather or time of year. Putting greens also are becoming common in luxury condos.
Retirees appreciate that luxury condo living is often located conveniently within the community. Owning a condo keeps people near shopping centers, medical facilities, and transportation services. Seniors appreciate that they do not have to drive far to complete their daily errands.
Retirees can access stores and pharmacies without having to leave their neighborhood. Many luxury condos are near walking paths, offering plenty of opportunites to stay active. These paths often lead to parks or waterfront areas to enjoy. Walking trails also make it simple for seniors to get their dogs out for some exercise, too.
Luxury Condo Living for Families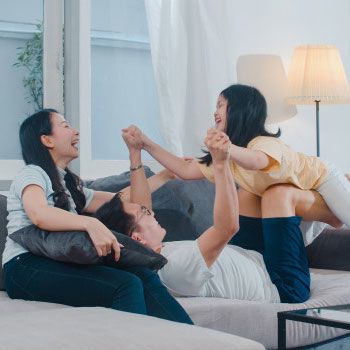 Many people do not think of condominiums for families with children. But luxury condo living can be a great fit for families. Depending on the town, condos are often close to schools so that children can walk to school each day.
And luxury condo communities are frequently pet friendly. You'll find wash-and-dry areas for pets so that families don't have to do their pup's bath in their condo. And using these pet spas helps keep the shared spaces, hallways, and elevators clean for all to enjoy.
A lot of luxury communities also have covered rooftop spaces where people can walk their pets no matter the weather. It is a priceless luxury for families.
One of the most significant benefits to families living in a luxury condo is access to downtown life. When you're looking for fun family activities, you simply need to step outside. Most condominiums are near theaters, restaurants, and art galleries. They are generally close to interesting landmarks and tend to draw fun festivals and community events.
Raising kids in a condo is fun and simple thanks to all of the amenities that luxury condos offer. Choosing a condominium with a pool gives families even more opportunities to play and relax.
Luxury Condo Living and You
There are many perks to luxury condo living. Amenities, affordability, and social opportunities make it ideal for a lot of different homeowners.
From first time home buyers to senior citizens, you'll find it is a perfect option regardless of where you are in life. With minimal upkeep and maintenance on your plate, you'll find that condo life is simple and enjoyable. Consider luxury condo living, and look forward to your best experience.